Overall this year's Vt Wonen & Design Beurs was a nice experience. I went with two friends: a very recent house owner and a soon to be house owner. We were all looking for some inspiration, something that would surprise us, maybe something that could be considered as bizarre and different but entertaining. Unfortunately we didn't find it as interesting as the exhibition from 2013. I even noticed that one of the brands, which got my attention last time, has exactly the same pillow cases in their offer as 2 years ago. I couldn't believe it, but let's get back to positives.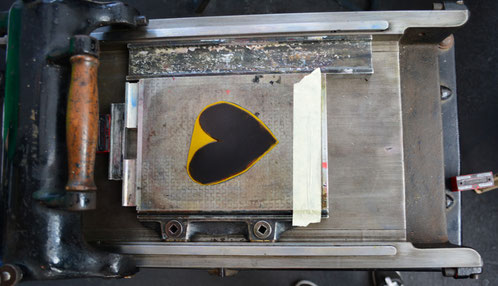 There was a pretty cool stand from Vt Wonen with press printing device. Different shapes, letters and ink colors were available. You could design and bring to life your own postcard.  Did we make one? No. Why? The line was too long and we were hungry.
One of the main themes in presented interiors was color. Furniture and accessories were matching the color of the walls. Blue walls - blue art, blue couch, blue pillows, blue rug, blue vase. Green walls - green art, green pillows got combined with natural, earthy colors of furniture. Grey walls - grey frames, grey daybed, grey pillows, grey blanket, grey rug, grey floor.

Plants were playing a big role in shown interiors. You could see them standing in pots and vases on the floor. Placed on the tables, shelves and cabinets as well as hanged. I also really liked this replanting station.

As I mentioned at the beginning, this year's exhibition was not exactly what we were expecting. Nevertheless we still had a great time and it was nice to see what is in style this year. I'm not sure if we will go next year, but this weekend we are heading to Eindhoven for Dutch Design Week. Hopefully it will be a very exciting trip! I just can't wait!