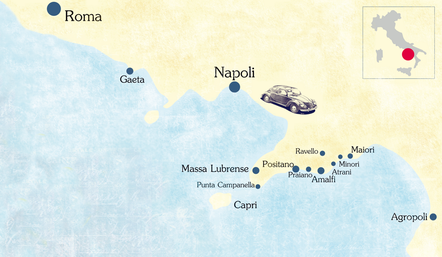 Czas: 10 dni
Kierunek: Włochy

Prowincje: Salerno, Rome
Miasta: Agropoli, Maiori, Minori, Atrani, Amalfi, Ravello, Praiano, Positano, Punta Campanella, Masa Lubrense, Napoli, Gaeta, Roma
Włochy są jednym z moich ulubionych miejsc na Ziemi. Jeżeli byłoby to możliwe, przeprowadziłabym się już jutro. Dlaczego? Powody są trzy: jedzenie, krajobraz i słońce.
Najciekawszym dniem naszego wyjazdu był dzień, w którym wybraliśmy się na 10 km wędrówkę Sentiero Degli Dei - Spacer Bogów.
Oficjalniy szlak rozpoczyna się w miasteczku Positano, skąd trzeba wspiąć się 1500 schodów w górę.  My wybraliśmy jednak mniej wymagającą trasę i złapaliśmy autobus z Positano do malutkiej wioski Nocelle. Stamtąd ścieżka jest bardzo dobrze oznakowana. Niestety moja lepsza połówka nie mogła zwlec się z łóżka na czas, dzięki czemu zaczęliśmy naszą wyprawę około południa. Był to bardzo zły pomysł. Głupi, zwyczajnie głupi. Po około pół godziny temperatura osiągnęła około 40 stopni. Delikatnie mówiąc, było gorąco. Zatrzymywałam się pod każdym krzaczkiem, żeby postać w cieniu. Ukończyliśmy naszą wycieczkę po około 5 godzinach schodząc 1500 schodów w dół do pięknej wioski Praiano.
Widoki zapierają dech w piersiach! Nie zapomnij zapakować aparatu bo będziesz tego żałować do końca życia!
Wskazówki:
- Rozpocznij wycieczkę około 8 rano, żeby uniknąć skwaru.
- Zapakuj: nakrycie głowy, dużo wody i przekąski.
- Nie zabieraj ze sobą zbyt wiele, plecak staje się cięższy z minuty na minutę.
- Myślisz, że masz wystarczającą ilość wody? Zabierz dodatkową butelkę.
A poniżej kilka zdjęć pokazujących, że jest to jeden z najpiękniejszych szlaków na świecie.
Byłeś? Podziel się wrażeniami!