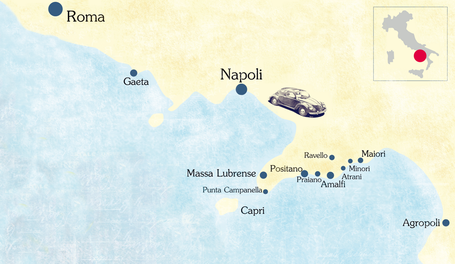 Time: 10 days

Destination: Italy

Provinces: Salerno, Rome

Places: Agropoli, Maiori, Minori, Atrani, Amalfi, Ravello, Praiano, Positano, Punta Campanella, Masa Lubrense, Napoli, Gaeta, Roma
Italy is one of my favorite places on Earth. If I could, I would move tomorrow. Why? There are three reasons: food, landscapes and the sun.
The most amazing day was, when we took a 10 km hiking trip called

Sentiero Degli Dei – Walk of the Gods. The official start of the path is in Positano, where you have to climb 1500 stairs. However, we took a less demanding route and caught a bus from Positano all the way up to the tiny village Nocelle. From there the trail was very well marked. Unfortunately my better half couldn't get out of bed on time in the morning, which meant that we started our trip around midday. Do not do that. It is just stupid. Plain stupid. After half an hour the temperature up hill has reached around 40 degrees. It was boiling HOT! I had to stop under every teeny-tiny shrub just to stand in a shadow. We finished our trail after around 5 hours of walking and 1500 stairs leading down to a beautiful village Praiano.

Views are breath-taking! Don't forget your camera, because you will regret it for the rest of your life!
Tips:
- Start your journey around 8 in the morning to avoid extreme heat
- Bring: a hat, a lot of water and some snacks
- Do not bring too much, because your backpack gets heavier and heavier every minute of your trip
- Do you think you have enough water? Bring an extra bottle!

Here you have few snapshots to convince you that it is one of the most beautiful trails in the world.
Have you been there? Share your thoughts and experience!