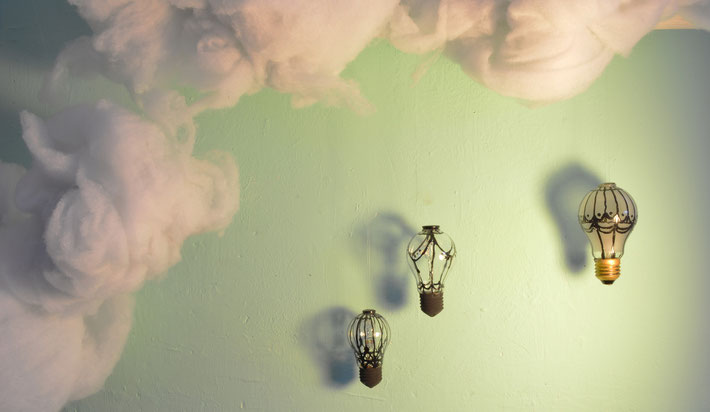 Name, Age, Nationality: Mel, 28, German

City: Amsterdam'ish - Diemen

Living space: 35m²
" I found this on the street, I repainted it and bought new knobs. I found this on the street as well and I just touched it up a little bit."

Tell me a few words about yourself.
I work in a hotel. I like photography, traveling and living in different places around the world. I enjoy making things, I'm working on couple of projects right now. I lived in Amsterdam for 8 months before and I decided to come back here after traveling. This time it is 18 months and counting.
What is the last thing you have made?
Hmmmm... Made and finished?
Yes.
Hmmmm... Last thing I finished is this little cacti garden.
Why do you like Amsterdam?
I like the size of the city, it is not too big, so you can go by bike everywhere. Takes you about 30 or 45 minutes to get from one side to the other. I love that it is such a bike friendly city, even though the weather is not bike friendly at all. I find Amsterdam very beautiful and I especially enjoy the water - canals and Amstel river.

Living here is expensive in a sense of rent, but going out for a tea or a dinner is quite affordable.
Do you have any favorite places in Amsterdam?
I do really like the street markets, Alber Cuyp Market is nice but I like Dappermarkt even more. Mainly because it is less touristic, a bit cheaper and you can still find everything you need. Also I like the north part of Amsterdam, with NDSM, an old dock area, hosting different festivals, events and the biggest flea market in Europe - IJ Hallen.

A favorite restaurant of mine, where I take all my friends, is called Bazar. It is located on Albert Cuyp street.

Another place, located in Jordaan is called Cafezinho. They serve a Brazilian specialty Acai. After traveling to Brazil, I have learned to like it a lot.

Ohh and I really want to try this lunchroom called Trust, I passed it few times. This heart to heart business community is located on the Albert Cuyp street. The idea behind this place is that you pay what you feel it was worth. Even though I haven't been there, I think it is quite interesting.

How long do you live here?
7 months in this house.

Do you have any interesting or funny stories about this place?
When I moved in here, this place was completely empty and I repainted everything together with the floor. I brought few things with me from Germany, but I didn't really have any furniture. I'm not sure if I should share this story...Oh well... There was a construction side next door and I went there few times with my landlady. We were digging in the trash containers and taking some old wood and pallets. We were always going there at the end of the day, around 6pm, when all the workers were gone. One day the construction workers came back and we had to drop our 'treasure', run and hide, so they won't see us. Fortunately we made it and later on we came back to pick up all the stuff we left behind :) Therefore everything is made from recycled wood. I just cut it the way I wanted and built my own little furniture, for example my sofa area and the dining table.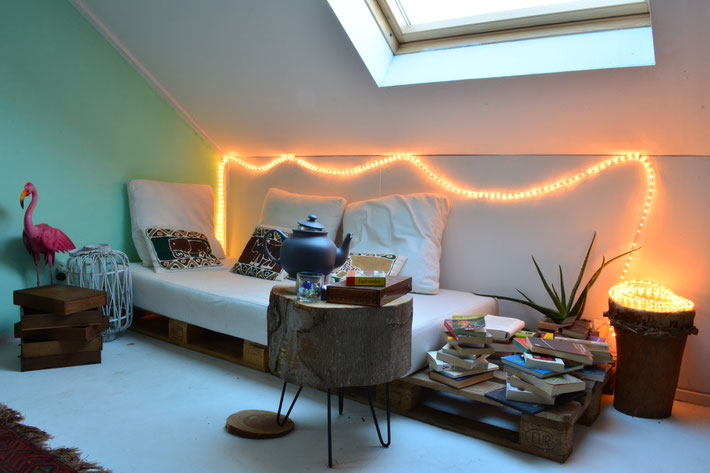 Do you have any struggles?
In German we have a word - hellhörig - you may want to google that :) Basically the walls are paper thin and you can hear a lot. If my landlady has her family over and I'm not playing any music, I can listen to their conversations.

What is the music you are playing most often at home?
It really depends on the mood. When I'm chilling, I like to listen to Daughter and Ben Howard. On the other hand, as every girl, I like to dance around sometimes and then I play some rock or hip hop.

" I would say 90% of the things I have here, I found on the street"

How would you describe your style, when it comes to a living space? What do you like?
Recycled, upcycled, trash lover. I like ethnic patterns, old rugs and bohemian style.
What are the colors and materials you are choosing for?
I like to have one wall painted in a nice color and the rest of the walls white. At the moment it is mint, but in half a year it can change. I used to have a purple and a green wall.
I like wood framed in black steel and I don't mind combining different types and colors of wood. I don't know if plants count as a material but I do like to have some easy plants. As I mentioned before, I made this small cacti garden. I also have some dried branches and field flowers in the vase on the window.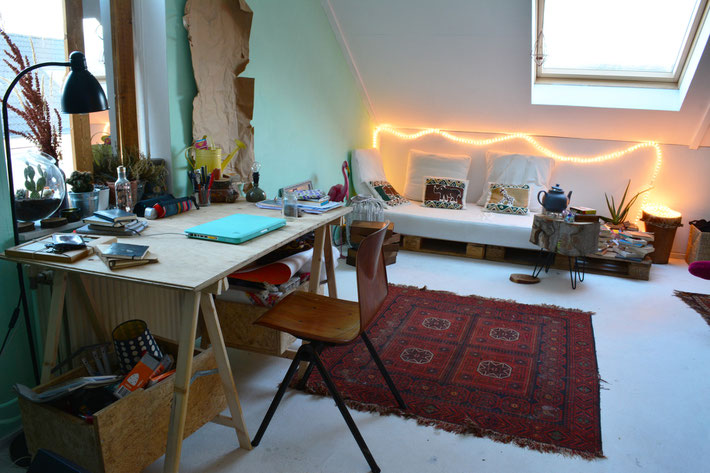 Are you organized or messy?
I'm very messy.
What would be your dream house?
A very tiny house on wheels. Kind of a trailer that I would build myself. Self sufficient and sustainable.
What is your favorite item at your home?
My tables, which I made myself. Also the rugs, they were very cheap and they are covering this ugly floor. Ohhh.. and for sure this glass bottles lamp, which I made myself as well.
 Are you a shower or a bath person?
Shower person, because it is easy.

Coffee or tea?
Tea.