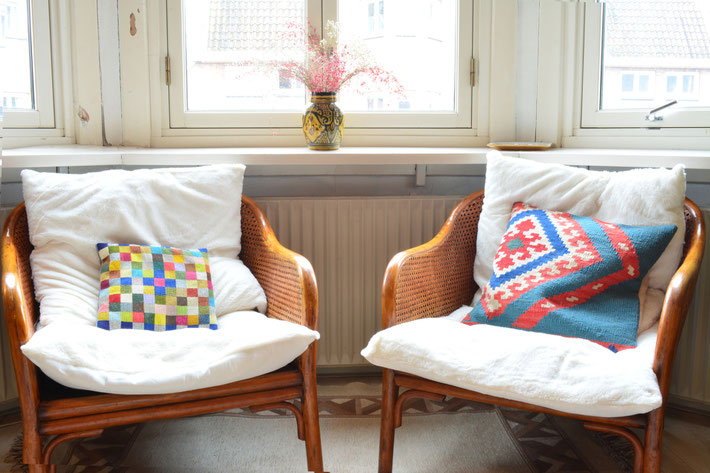 Name, age, nationality: Romana, 27, half Dutch half Croatian

City: Amsterdam
Living space: around 90 m²
Tell me a few words about yourself:
I'm working in retail but it's not my place. I'm doing it because it was an easy choice.
I want to get into vintage furniture, design, plants and pots and carpets kind of a life. That is what I love to explore. I think I should do something with that and that is going to be my future. I also love photography and drawing.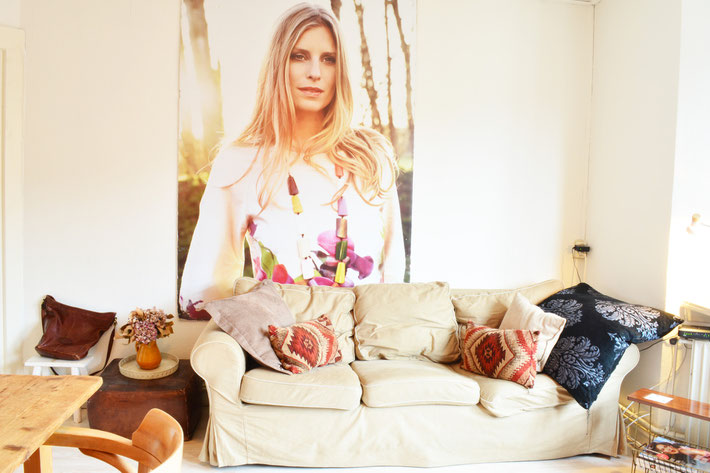 How did you find this place?
I was living in Haarlem and I was very unhappy there in my room. It was a student house, it was messy and tiny and I had horrible roommates. I wanted to live in Amsterdam anyway, because I was here everyday. I searched for a place I would like for around 10 years. Somehow I came across a Facebook post about this apartment and I reacted on it. I got to come over here and meet the roommates. The house just seemed to good to be true, I fell in love with the girls.
We are all working, so it is not a messy student house anymore. It's located in a fantastic area. I was so lucky that I found it. I'm really happy here.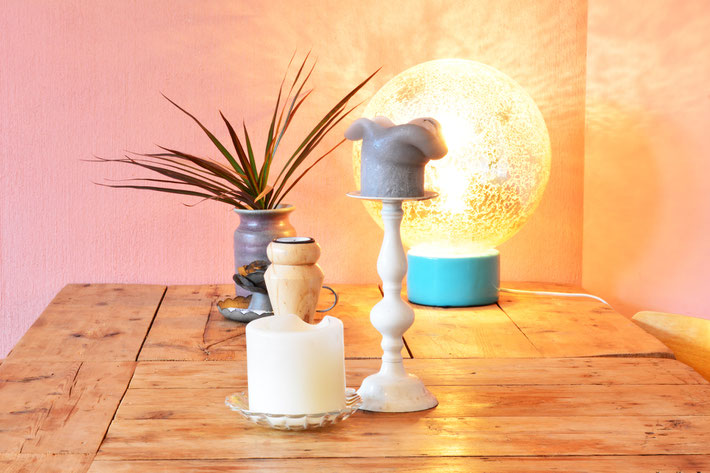 Why Amsterdam?
I was studying at the University in Amsterdam, I was working here. Pretty much all my friends were living here.
I was living in Haarlem before, because at the time when I moved out from my mom's house, my entire life was still based there. I had my gym there, my high school friends lived there, my mom lived there. Soon after that my life moved to Amsterdam and I'm completely in love with this city. I don't know if I could ever live somewhere else in the Netherlands.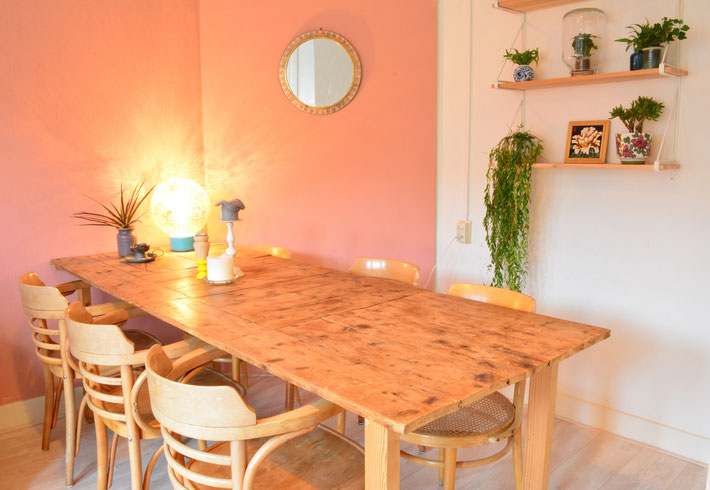 What do you like about the city?
First of all I find Amsterdam's architecture very beautiful. It feels grand and rich but it is also old, cozy and lovely. It is not a coincidence, that people from around the world are coming to Amsterdam to look at it's canals and houses. I love that it's a buzzing, cultural city. There is always something to do. You can go to the market or to the IJ hallen and for example see a movie there.
My romantic idea of Amsterdam is that I wake up, go downstairs to the coffee place on the corner, read a newspaper, drink a cappuccino and then cycle to work. That just feels like life to me.
I can also easily visit all my friends because they all live within 15 minutes from my house. Everything is around me here.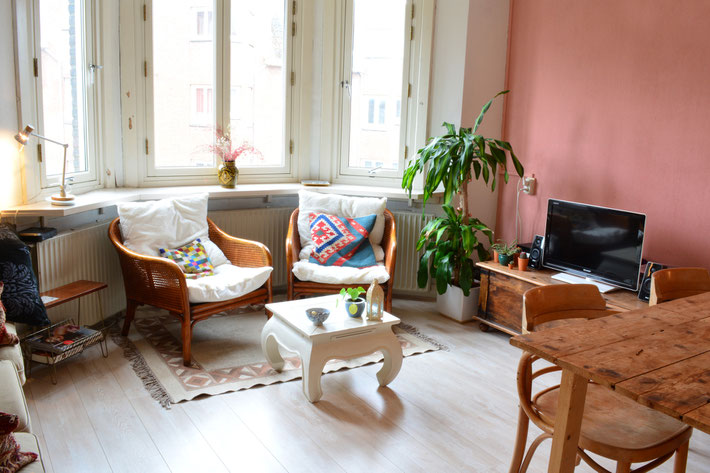 Do you have any favorite places?
I live next to the Amstelveenseweg, where are a couple of old fashioned bars and it's great to go there. When we feel bored on the couch with my roommates, we get up and go there to grab a beer and have a laugh.
I'm a bit vintage obsessed, therefore I love to go to all those small vintage clothing and furniture stores to explore.
Here, around the corner, on the Koninginneweg is a little vintage shop called DasGaaf. I got this cabinet from there, I got some pots for my plants, a cushion and something for the wall. I love that store, they have amazing things for reasonable prices.
Also behind the old Haarlemmermeer station is an industrial area, where you can find a big warehouse, in which they sell furniture from people who died. It is fun to go there and browse, because you can find the weirdest stuff.
If you bike a little bit further, next to the forest, there is a great area for the summer time, where you can go for a swim.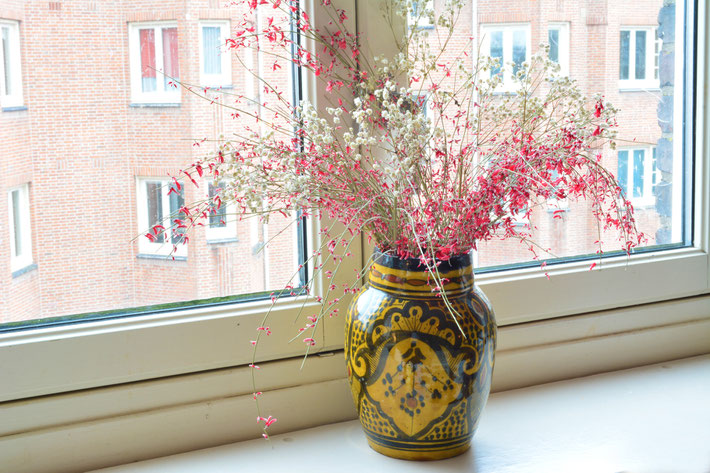 How long do you live here?
A little over a year. And it is my first place in Amsterdam.
Do you have any struggles?
Yes, the downstairs neighbor is a bitch. She sits at home all the time and complains about the sounds and smells. We are the most quiet group of people and we never have parties here. But she comes over with a complain every time I'm using a hammer to hang something on a wall.
On the first floor lives a Pakistani couple and they have to be the most amazing cooks ever. The hallway always smells like garlic and spices. Obviously that was also something to complain about.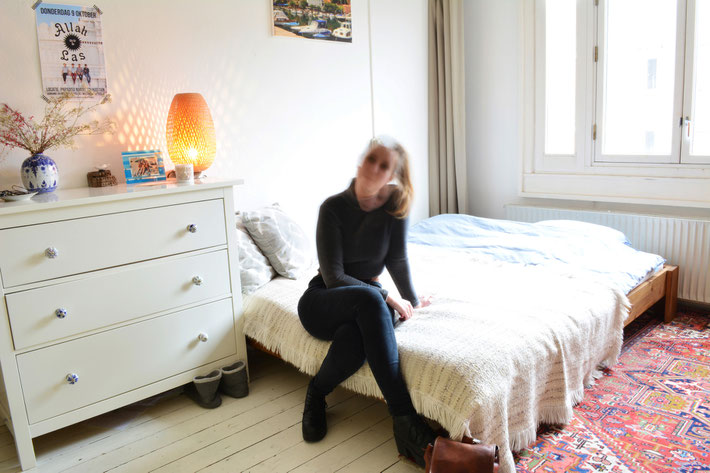 What is your favorite item at home?
I guess my closet, yes definitely.
What is the story behind this plant?
This pot has two agave and a palm tree in it. There is a Croatian believe, or maybe it is just in my family... Anyway there is a believe that agave growing next to a palm tree will bring you luck. Those plants come from my dad's garden in Croatia. My dad put them in a pot for me, to bring me some luck.
What music are you listening to, when you are at home?
I have a new/vintage LP player and I just bought a new record from Tame Impala. Relaxing, kind of surf music. And my favorite boyband is Allah-Las, they also play kind of hippie, surf, pop music.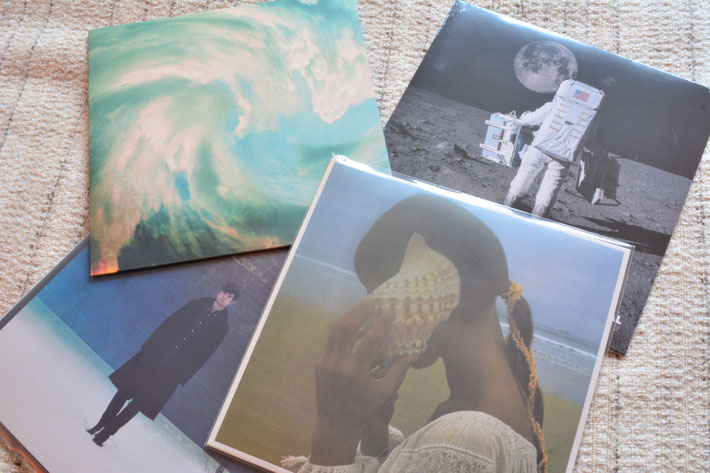 How would you describe your style?
Vintage. I don't know if I have one style, because when you look at my bedroom you can see different styles. The carpet is Persian, the cabinet is Dutch 50's design and then my closet is from Romania, so it is kind of a mix. But I love old, unique patterns and tiny details that catch my eye.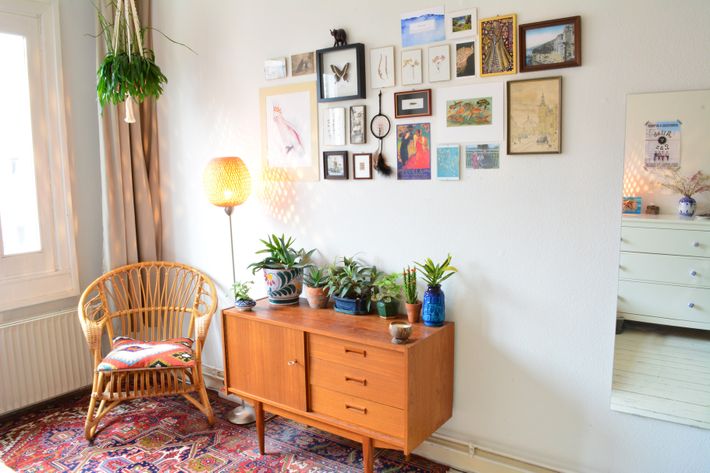 Which materials and colors are you choosing?
I love natural materials, wood, rattan. I love plants. And for colors: different shades of green, blue and brown, earth-tones. Well my living room is pink, but it was this way when I moved in. However, we choose to say it is terracotta, not pink :). Recently I decided that I want to have velvet curtains, but it turned out that they are very expensive. So now I'm saving money for them.
What would be your dream house?
I think it would be in the center of Amsterdam but not on a canal, because that is too busy. Might be in the West part of Amsterdam, because it is a buzzing, new neighborhood. My dream house would be old, full of character and corky little corners. It would be filled with things I find all over the world.
Do you bring things home from your travels?
Yes, I collect little things to put on my wall. It brings me good memories. Most of what I have on my wall now is from Croatia, it gives me a sense of home. I miss Croatia a lot.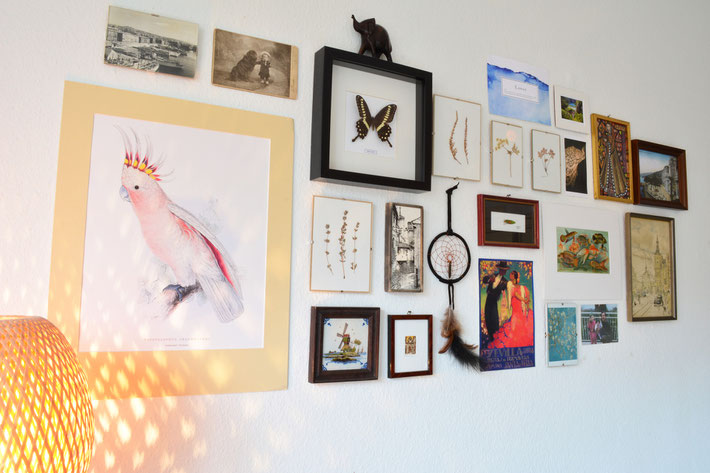 Are you organized or messy?
Super organized. Shall I open my closet? Wait, I will open my closet.
I have to be organized, I have too many nice things to ruin it with making it messy. My room always looks like this.
Are you a shower or a bath person?
Shhhhhhh... well... I'm forced to be a shower person, because I don't have a bath. I would enjoy a bath... But I'm enjoying my showers as well, so I guess for now I'm a shower person.
Coffee or tea?
Coffee, yeah I'm an addict.